If you love to cook, then there's a good chance that you also love to host parties. While it can be exciting and it's definitely looking something forward to, it can be daunting to put together a menu that will appeal to everyone you have invited. Perhaps the most effective way to tackle this is by holding a cocktail evening and putting out a variety of snacks and appetizers allowing people to pick and choose what appeals to them the most.
Check out the incredible foods available for discounted priced from Gourmet Food Store – the highest quality food products for less than you can get anywhere else. With that in mind, check out these 10 appetizing foods that are perfect if you're hosting friends this fall.
1. Bratwurst Barbecue
Provided you get decent weather the autumn is the perfect time to enjoy bratwurst. Autumn is the type of Oktoberfest, after all! There are plenty of options available and how you serve it is up to you. You can slip it in a bun, wrap it in bacon, or throw it in a stew. No matter what, it's going to be a delicious hit.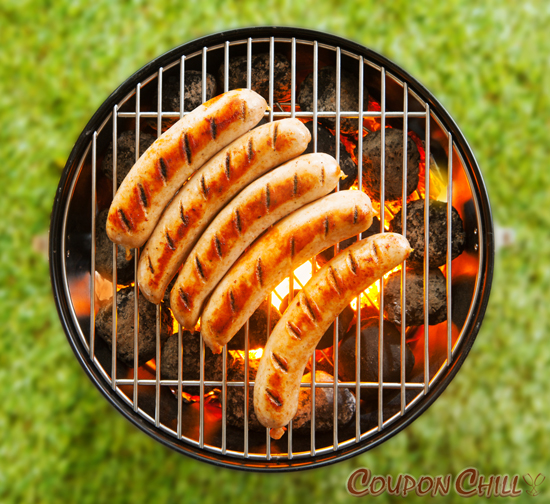 2. Cheese Night
There's nothing more adult than an evening of cheese and wine. Whether it's an assortment of cheese spread across a board and served with crackers or a variety of meals based around cheese. Who doesn't adore cheese?
3. Cider Braised Pot Roast
The great thing about this is you can throw it in the slow cooker. While this would normally be served as a main if you're hosting a bigger crowd you can break it down into smaller portions so that everyone can have a taste of the deliciousness. Just make sure to throw in some vegetables to cook along with it (think onion and sweet potatoes).
4. Sweet Potato Bites
What could be better than sweet potato bites? Ones that have cheese and chorizo in them, too. They're so good you'll find your guests stuffing them in their pockets. It packs a spicy kick, though, so consider serving it with a chutney to balance those flavors out.
5. Brie Bites
They sound fancy, they look amazing, and they taste so good your guests will wonder how you pulled it off. In reality, though, they are so easy you'll cry as you make more after eating the first batch yourself. All you need is filo pastry, brie, pecans, and a sweet jelly (cranberry works great!).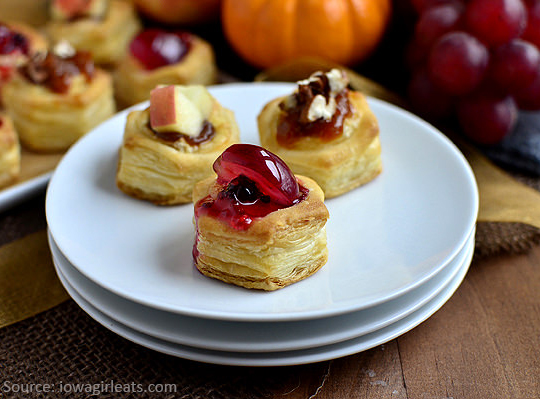 6. Jalapeno Poppers
They don't have to be as complicated as you are imagining. Slice them in half (length ways) and put your fillings (cream cheese, bacon, chicken, or anything else you think your guests will enjoy) in before wrapping them in bacon and cooking them in the oven. Pop toothpicks in each one and let your guests help themselves. Spicy deliciousness on tap.
7. Salmon
Fresh smoked salmon atop a toasty bread served with a delicious dill and horseradish sauce – it's the perfect snack for the seafood lovers in the group. Plus, it takes less than 15 minutes to assemble – just make sure you have the salmon chilled ahead of time for at least 36 hours.
8. Stuffed Potatoes
Think deviled eggs but in potato form! Mix your potato pulp with chives, sour cream, and mustard before filling your potato shells back up. You can serve them warm or refrigerate them until your guests arrive and serve them at room temperature.
Of course, if you love potatoes you can also go all out and whip up some delicious Hasselback potatoes. It's all about getting those accordion slices just right to ensure your potato crisps up just right. Then stuff them with bacon, your preferred cheese, and garnish with parsley.
Whichever potato you choose to go with (why not try both?) will go down a treat with your guests. Just don't expect to have any leftovers.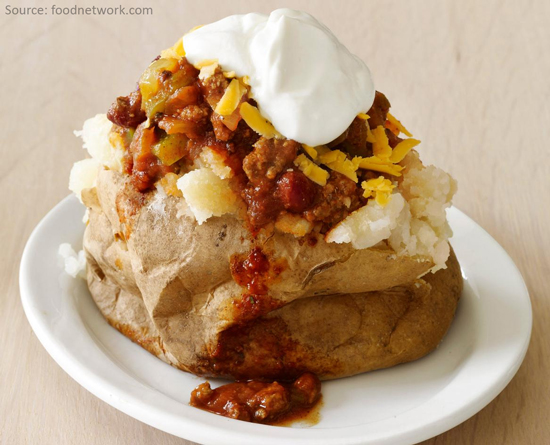 9. Butternut Squash Soup
What is more autumnal than warming butternut squash in soup form. You can take it to the next level with a bacon garnish and serve it with crusty, cheesy bread. It's the perfect snack or starter.
10. Apple Spice Cake
What party would be complete without dessert? Consider a spiced apple cake – finish with powdered sugar and serve with ice cream. Or you could go with a pumpkin based dessert since it's that time of the year.
Whatever you decide to serve your guests, the above suggestions are simple to make but will fool your guests into thinking you've had to work far harder at them. More importantly, of course, is that they are absolutely delicious and there's enough variety to cover everyone's picky eating habits. Don't forget other snacks like chips, dips, and a vegetable tray for people to pick from, too. What would any evening be without a good selection of vegetables?
Don't forget the party accessories, consider creating a signature beverage for the evening, too. This will allow to prepare it in bulk and keep it in a punch bowl for everyone to serve themselves as they like.