Holidays are a time to relax, rejuvenate and enjoy a good time with friends and family. So you have put your holidays and marked you calendars but the question still remains on the best places to visit. Music festivals are one way to enjoy a good time and if you are in the states, all you have to do is do a quick search of all the upcoming music festivals right on the corner. In this post, we will save you the hassle and point you to the best summer music festivals you ought to attend in August 2018:
1. Lollapalooza:
For music buffs out there, the Lollapalooza is one of the best music festival to attend out there. The idea for the music was initially created by singer Perry Farrell in 1991 as a farewell tour for his band but the idea kickstarted into another avenue altogether. Lollapalooza ran annually until 1997 after which there was a brief hiatus until its revival again in 2003. Today, Lollapalooza happens on an annual scale on a grand level featuring artists from every genre including heavy metal, punk rock, hip hop as well as electronic music.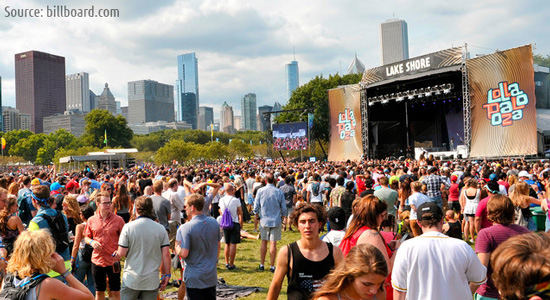 This time around, Lollapalooza is scheduled to take place in Chicago from August 2-5 in Grant Park. The line up this time around includes some of the hottest music stars on the planet including Camilla Cabello, Post Malone, Arctic Monkeys, Bruno Mars, The Weeknd, Zedd, Galantis and many more. Apart from music, there are also some scheduled after shows which include Chow Town, Lolla Market, Kidzapalooza etc. The tickets for the events are already on sale for the event with the slots filling up quite fast.
2. Lincoln Center Out of Doors:
The Lincoln Center in New York is another place holding an outdoor festival from 24 July to 12 August 2018. The Lincoln Center has been active since the 1950's which was envisioned as a major performing arts center that would cater to developing, grooming and presenting the finest and talented people in the respective fields of arts, music, dance, film, opera etc. Expect a number of rising hot talents as well as legends in the music industry to take part in this three-week festival at the Lincoln Center Out of Doors. This time around the line-up has stars like Jamila Woods, Mavis Staples, Raphael Saadiq, Marg Price etc. All the events are slated to happen across different locations across the Lincoln Center. Also, there are no tickets to the events with a majority of events scheduled to be showcased free of cost. A definite bargain for music lovers out there.
3. Hot 100 Fest:
The Hot 100 fest is an event hosted by Billboard. This annual event has been a music lover's paradise since it was launched in 2014. This year, the two daylong event from August 18-19 is slated to take place in Long Island, New York. The event will feature some of the best top charting artists including Halsey, Rae Sremmurd, DJ Snake, Nghtmre, Rich the Kid etc. The tickets for the event are already on sale. Whatever event you choose to go, you definitely have to look your best. Head to Forever 21 and find the best deals in latest clothing and accessories collection.
4. Outside Lands:
Started 10 years ago, Outside Lands has become a premier music festival in San Francisco which attracts thousands of music fans and artists. This year around the event is slated to take place from August 11 to August 13 at the Golden State Park in San Francisco. Like every year, fans can expect a line of A-list musicians and artists including Florence + The Machine, Illenium, DJ Snake, Hannah Wants, Janet Jackson, The Weeknd etc. Apart from music, there are a whole lot of other events that patrons can enjoy at the music festival this year including Cheese Lands (cheese themed food event), wine lands(featuring the top winemakers from across the country), night shows prominent artists and much more.
5. Burning Man:
Burning Man happens to be one of the most iconic music festivals since 1986. The festival goes by 10 ruling principles which the organizers want the audience to abide by. Some of these include self-expression, self-reliance, community cooperation etc. This time around, The Burning Man will take place from August 26- September 3 in the Black Rock Desert of Nevada. Apart from music, you will get to experience art installations, different themed camps and people can also sign up for the event as volunteers. Safe to say, the Burning Man event promises to be dazzle as always. Like every time, there is an interesting line up on offer which the organizers have yet to reveal. The tickets for the event are to go live soon from July 25 and closes within two days on July 27. Tickets are on a first come, first serve basis here.