Thanksgiving is around the corner and with it come the woes of finding yourself a great outfit for yourself. This is a time to reminisce, enjoy and have a good time with family and friends but also look your absolute best whether you are entertaining the guests or even simply cooking. It is after all the beginning of the holiday season and you have every right to look like a picture of perfection for your family, friends and colleagues. The market is filled with all kinds of options when it comes to shopping for the Thanksgiving look but the real problem is finding yourself a budget outfit for the occasion. In this post, we have compiled you some budget friendly outfit ideas that you can wear for the coming festive occasion:
1. The elegant look:
You need not invest in expensive dresses to look like a million bucks when a simple wrap dress can do the trick. Best part is, you can make any occasion you are going to whether it's a family dinner, friends gathering or a night with your beau's parents. Get the Coldwater Creek Timeless Faux Wrap Dress from Coldwatercreek, an easy to wear day and night dress that's just perfect for an occasion like Thanksgiving. Accessorize this with a Baublebar Charlotte Statement, a set of beautiful pearl clusters to help you shine through the dress. Complete the look with a streamlined satchel for all your essentials with this DeuxleuxLuxbelle Mini Satchel and high heels from Journee Collection Haven Women's High Heelsavailable at Kohls.
2. One with the Fall:
While simple wrap dresses are chic and cute, sweater dresses give a different vibe altogether. Sweater dresses are perfect for a fall look and not to mention a social gathering like Thanksgiving. Not only you can make a statement, but also have the perfect ensemble for the fall season. Accessorize this with Amuse Bouche Lipstick from Sephora and a black over-the-knee boots from Nordstrom and voila! There you are all ready for this year's Thanksgiving dinner. This is simple yet fancy attire you can have in your wardrobe for this fall.
3. The highlighted scarf:
Continuing with the fall vibe, experiment with some plaid scarfs this year for the Thanksgiving gathering. The goal is to keep everything minimal here except for the picturesque colourful scarf. Start off with a white Dolman tee, a cosy open cardigan from Nordstorm and amid-rise super skinny jean from Gap for the look. The highlight here is a Stitch Patchwork Plaid Scarf from Nordstrom. Complete the look with a cross body bag from Adina Leather, ankle bootie from Francia that can be worn both with and without socks. A perfect outfit for the upcoming festivities headed your way.
4. The trendy Chic look:
If you have never invested in a combo shirt dress before then it's time to indulge in one. This cute dress is a must have for any special occasion and this time make it your Thanksgiving pal.  The combo shirtdress from English Factory and the Chic Dot Sheer Tights from Commando are something to vouch for. Complete this look with a Willow Faux Leather Biker Jacket from Nordstrom along with Siren Bootie to go from Jeffrey Campbell. This outfit is perfect when you are headed out for a social call with friends on Thanksgiving Day.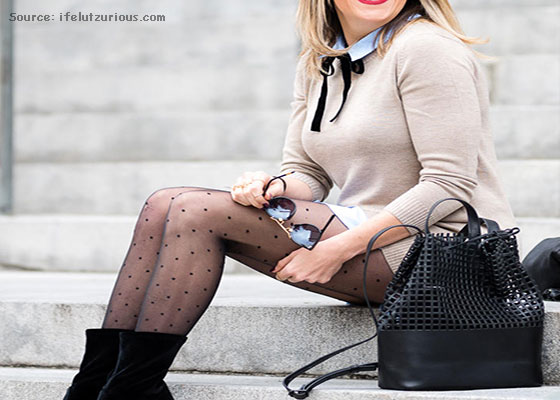 5. The minimalistic mystique:
Floral print tank tops do tend to add a certain charm to your outfit and this Thanksgiving, you can do the same being a minimalistic mystique. This outfit is perfect for a special day with friends and family. The Vince Camuto floral Print ought to be your choice for the occasion along with Avery Fit Tie-Hem Pant from Banana Republic. Accessorize this look with Crisscross Cuff Bracelet from INC International Concepts and a beautiful black embossed Jessica Mclintock Nora Metallic Snake Large Envelope Clutch from Zappos. In terms of footwear for the look, consider investing in a Calvin Klein Elin Pointed-Toe Flats.
6. The Fancy Fatale:
A beautiful dark-colored sleeve dress should be the choice of outfit to go here because nothing quite speaks elegance quite like an outfit as this. Go for the beautiful Khaki Ruffled Sleeve Dresses by Mango for the occasion and accessorize this with a Tortoise Chain Stone Cluster Pendant Necklace from Express. Complete the look with Nine West Shoes, a black velvet truffle color that is bound to make you stand out from others.
So, there we have comprised a short list of budget friendly outfits that you can wear for Thanksgiving this year. Wine and chive out there!