It's the denim moment that has hooked everyone and if your wardrobe is missing on the below styles, then it's time that it needs a revamp. From high-waisted to low slung, from faded to patched, the list seems to go on and on; denim is so much in vogue and desirable that it's a sin not to stock your wardrobe with these styles. Here is a compilation of the styles that have been much sought after this season:
• Distressed Denims: You need not go to a fashion outlet to buy one and instead you can simply make a few cuts and slash your old pair of jeans here and there to create your own style unless you are looking for something really subtle and professional. These are quite eye-catching and it's your take totally to opt for a few slashes just around the knee or go for a bolder look with an overload of slashes.
• White Denims: White denims can make you rock any kind of look and you can team them up with capes and silhouettes or even crop tops. Go for a skinny pair of white jeans and team it up with heels to get a crisp and clean look.
• Denim Culottes: Seems weird to have culottes relegated to the oldies, isn't it? Culottes are very much in this season and have been given a modern twist as denim culottes. They are extremely cool and you can wear them from day to night without any discomfort.
• High-waisted jeans – High-waisted jeans are trending this season and the next time you go for shopping, make sure that the pair you get is a skinny fit. They have made a great comeback on the runways of Rodarte, Gucci and Chloe. If you want to pull off this trend really well, make sure that you shop your shape.
• Loose Jeans: If skinny and stretchy material is not your type, then you can switch to something more comfortable such as wide-leg jeans with plenty of room. These jeans are similar to palazzos, not exactly the same though, but offer you a lot of comfort when you have to go out on a sticky and hot day. The fit and flare fashion will certainly make heads turn!
• Patched Denims: Go for strategically placed patches this season and you are bound to rock the look. Whether you opt for a straight fit or skinny jeans, patches work perfectly for any style.
The Double Denim Trend:
Many celebrities can be seen sporting double denims. If you need some style inspiration, then you can check how these celebrities have sizzled the look by doubling their denim dose. Here we compile a list of celebrities, who have pulled off this trend really well:
• Kylie Jenner: The Keeping up with the Kardashians actress, was seen sporting a denim shirt with shorts, her look complemented by her short blue hair. Apparently, she is a fan of the double denim trend as she was also spotted wearing a sexy knot denim shirt with a trendy distressed denim skirt on another day.
• Gigi Hadid: The Guess launch was graced by her presence when she stepped in a denim shirt and jeans, perfectly marrying the color combination of two different shades.
• Jennifer Hudson: The popular singer and actress was present at her campaign with New York & Company's Soho jeans collection and wore a pair of distressed jeans with a denim shirt. Her cool and trendy style was a breath of fresh air from her traditional decked up and classy style.
• Kendall Jenner: We loved the model when she wore a casual denim shirt with sophisticated patchwork detailing on her jeans. She took the style to another level by adding a sexy studded belt to her outfit. We were bowled over by the amazing look.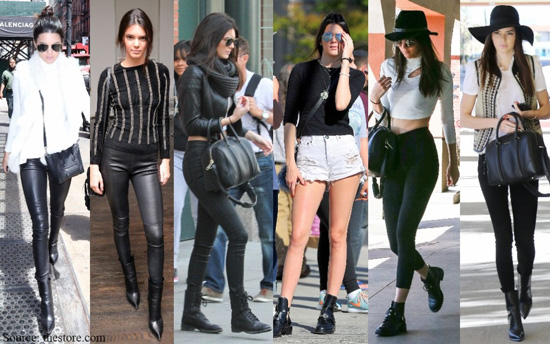 • Jessica Hart: The stunning Australian model was spotted on the streets in a chic look wearing a casual tee and a smart denim jacket and jeans. The contrasting shades blended perfectly well and we loved the look.
• Katie Holmes: If you are sceptic of the double denim trend, then you can probably take a leaf out of Katie Holmes' book. She was spotted off-duty wearing a denim jacket with black jeans.
• Beyonce: She took the concept of double denims to a different level altogether by a fabulous combination of a rolled sleeve shirt, bustier and hot pants. The rolled-sleeve shirt designed by Black orchid looked stunning.
The debate is still on whether double denim is hot. A style which was a faux pas sometime back has made a great comeback.