Europe is a destination that ought to be in everyone's bucket list. Be it Eastern or Western Europe; both sides have so much on offer for one to see and experience. While November remains an off-season time to visit Europe but the good part is that everything gets cheaper during this time. Be it flights, trains, hotels, or even food, the arrival of cold means the dispersal amongst the traveling crowd. The temperatures during this time take a drip and can change going from anywhere as high as 60F to anywhere as low as 30F. Many, however, would even agree that this remains the best time to visit and pretend that it's your private place to visit and enjoy. In this post, we will explore the top 5 places that should be definitely on your list if you plan on visiting Europe in November:
1. Poland:
Eastern Europe is majestic as it is beautiful, and Poland remains a prime example of it. The country has a rich history since a millennia boasting of historical landmarks, architecture, and even old neighborhoods. To think that once the country was almost on the verge of destruction during the second world war to the times, it has come to now. Poland boasts of its history via its many museums, be it the motivation for Chopin's music to the ill fateful Jewish ghettos of the second world war. But this remains not the only aspect of the tradition-rich country; the entertainment and the arts and food scene remains something to be discovered. There are a lot of lively bars, pubs, and restos and shopping arenas that would ensure that you never get bored with the good vibes here.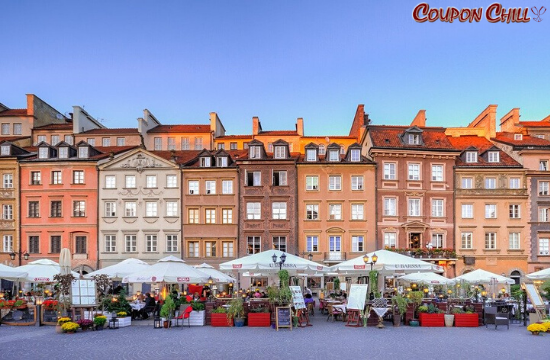 2. Turkey:
Out of all the countries in Europe, Turkey remains a destination worth considering. Simply because the country still has warm days in comparison to the rest of Europe. Istanbul, mainly, is a cultural delight to explore due to its rich history and culture. The place is a delight to visit in Novembers, especially Istanbul, if you wish to learn more of the culture and of course the delicious food. The southern coast of Antalya is also a picturesque place to feast your eyes at, and of course, there is Cappadocia that has a barrage of endless things for one to explore. Safe to say, you won't be getting bored of the place anytime soon. Looking to book your next vacation? Head to couponchill and get $200 gift vouchers on economy class specials.
 3. Portugal:
November is a great time to visit Portugal as there are several festivals during this time to check out and attend. This includes the famous Lisbon and Sintra Film Festival to the much fan fared Super Bock em Stock festival. If you are in the city, you definitely should head to the Lisboa Story Centre and get an interactive 60-minute guide to the history of the town. With its mild weather, great nightlife, and great restos and bars to enjoy from, Lisbon is one city that will truly feel like holiday wonderland coming true overnight. If you still wish to head to the beaches, the Algarve coast is your best option. While winter sea swimming is not for everyone, good old surf, and sun and discounted prices all across, this comes off as a good bet.
 4. Italy:
Often known as one of the fashion capitals in Europe, Milan is a place that should be in your to-do list. As the crowd mellows down during this time of the year, the winter air makes its way surrounding the mountain peaks. The Christmas prep is something that begins right at this time of the month, carrying on till the day of Christ. The lights, lamps, and the market is undoubtedly a charm to see. Known predominantly for its arts and culture, one can find several museums and galleries that are bound to leave you spellbound. If you are in Italy, why not catch the Opera as well while you are at it? And what better way to warm your body here than the risottos and beef and the fine wine and cheese. You will be craving for more at this majestic place. Shoes are a mark of one's persona. This time around, get a stylish pair for yourself at a 75% discount only at Shoemart.com.
 5. Bulgaria:
Bulgaria is again another destination that is a testament of time having withstood different civilizations and regimes ranging from the Greeks to the Ottoman empire. Today, Bulgaria is known for its lively markets, museums, and lip-smacking cuisines. And considering the cold weather, it is an excellent time to catch the nightlife. The country is known for its youthful spirit and zest, and what better time than this to catch all of that?
So, there we have the top 5 destinations that one should visit in Europe this November. Have you packed your warm clothing and bags yet?